Pure Family
Enjoy the warmth and dedication of our family-run Fulham practice
We are delighted to introduce you to our team of talented dental professionals, who are led by brothers Ayzaaz and Shiraz Akram, who are both dentists, and their sister Noieeda, our treatment manager.
You'll be treated in a safe, clean practice with the highest standards. We're members of the British Dental Association Good Practice scheme – and have been since 2012 - and are registered with the Care Quality Commission. Pure Smiles also adheres to the strict professional guidelines set and monitored by the General Dental Council.
Call us on 020 7736 6276 to find out more.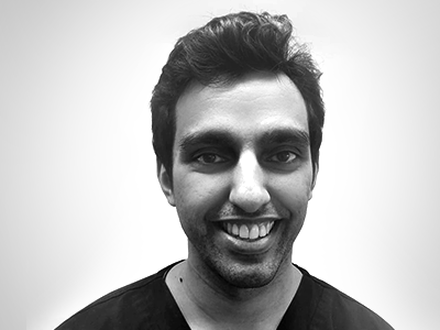 Suraj Bhatt
Hygienist /therapist
Diploma of Higher education in Merit in Dental Hygiene and Dental Therapy
GDC reg. 262615
Suraj qualified from Barts London, School of Medicine and Dentistry in 2016 with a dual qualification in dental hygiene and therapy. Furthermore he is a member of the BSDHT and BADT and regularly attends lectures to further his skills and knowledge.
His area of expertise is educating patients and carrying out a range of therapeutic hygiene treatments, including complicating gum therapy such as root surface debridement to prevent and maintain gum disease.
His therapy qualification allows him to carry out cosmetic treatments, such as teeth whitening. For Suraj it is extremely important to help patients understand the importance of good oral hygiene, as without this healthy gums teeth will fall out.
Since gaining his qualification he has worked in numerous private and NHS practices and believes Pure Smiles is the best. Because the team really believes in giving the absolute best service from providing outstanding treatments whilst in a relaxed, stress free setting, which allows patients to feel at ease. The team is excellent too with very friendly staff who all do their part to make sure the practice functions efficiently.
Outside of work he likes to try keeping fit by going to the gym, as well as travelling and going to the cinemas.